April 30th
---
Tour de Cure: Mid-Atlantic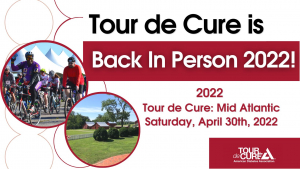 Windsor Castle Park Smithfield, VA
Celebrate the impact we've made throughout the years! For more than 30 years, Tour de Cure has served as the American Diabetes Association's signature cycling and fundraising event that promotes our mission and healthy living.
Funds raised will support lifesaving research, education, advocacy and support the millions of Americans living with diabetes and their loved ones.
Register and Start or Join a Team Today!
Step 2: Click the "Register" link Registration Fee: Registration fee of $10 for riders attending the event in person Fundraising Minimum: $250 ($50 for youth 17 and under) fundraising minimum
Step 3: Follow the easy steps to complete your registration Living with Diabetes? Don't forget to sign up as a Living Red Participant for special day of event incentives!
Step 4: You're ready to start using the online Fundraising Tools that include the enhanced Tour de Cure App. Recruit your friends and family to ride with you to help the 34 million Americans living with diabetes!
Recognition gifts for fundraising begin at $250 ($50 for youth 17 and under!)
Follow and Like us on Facebook – @adavirginiawestvirginia @adanorthcarolina Share your photos and posts using #TourdecureMidAtlantic